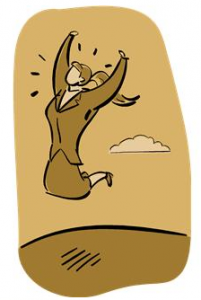 Previously, we had explained the value of incorporating a change agents network as part of your overall change management program. So you can imagine how thrilled I was when Paul Hagen from Forrester contacted me to request an interview for his recent research report titled "How Customer Experience Change Agents Transform Culture."  I provided Paul with firsthand insights from two customer experience-related change management projects that I led where we had incorporated a change agents network approach – one involving the deployment of new technology at a major airline and the other a customer experience transformation initiative for a diversified financial services company.
As Forrester's study points out, changing from a product-centric company to a customer-centric company requires a cultural transformation, which is no small task. That's because transformation involves changing the beliefs and behavioral norms of everyone in the company. Customer experience professionals can't do this alone. Change agent programs offer customer experience teams extended capacity to replicate skills and tailor messages so that they're relevant to employees at a local level, across geographies.
Below are a few highlights from Forrester's research.
Customer Experience Leaders Can't Change Culture On Their Own
Customer experience pros can't be everywhere and know everything when helping a company transition from product-focused to customer-centric. They need help adjusting the set of shared values and behavioral norms that guide the daily activities employees perform.
Change Agents Accelerate Cultural Transformation
Customer experience pros have turned to change agent programs to help them translate the customer experience vision locally, to provide eyes and ears on the frontlines, and to build skills and capacity across the firm.
Build A Change Agent Program With Three Core Components
Firms seeking to build a change agent program need to: 1) recruit people with the credibility to promote change; 2) train participants in core customer experience skills; and 3) support agents in their mission.
Forrester suggests exercising caution when starting a change agent program. They recommend you build a solid foundation before starting a change agent program. Companies that have not yet built up a critical mass of support across the company will not recruit enough qualified people or garner the credibility needed to drive change. Foreester outlines a few building blocks to put in place to help pave the way for your program:
A customer experience strategy. Without a vivid description of the kind of experience the company seeks to create, change agents will act like musicians in an orchestra without a conductor. An effective strategy must describe the intended experience, create artifacts that direct employee activities and decision-making, and provide guidance for funding decisions and project priorities.
A "voice of the customer" (VoC) program. A well-crafted VoC program systematically collects customer insights and incorporates them into business decisions through listening, interpreting, responding, and monitoring. The steady stream of customer feedback generated by the VoC program gives agents ammunition to support their efforts, like verbatim comments about the quality of the experience.
A "voice of the employee" program. By benchmarking employees' perceptions about how empowered they feel to serve customers, customer experience leaders can monitor their progress when striving to change shared beliefs and behavioral norms. Engage the firm's human resources (HR) department for help. If the HR department does not have an employee engagement survey, consider assessments such as those from Denison Consulting, Gallup, or Forrester Research.
A customer experience measurement program. To manage customer experience, companies need to measure it. These metrics help monitor the impact that change agents and other customer experience projects have on the bottom line. Establish standard customer experience metrics across the enterprise, on par with traditional business metrics such as sales and profitability.
Click here to visit the Forrester website where you can download the report.