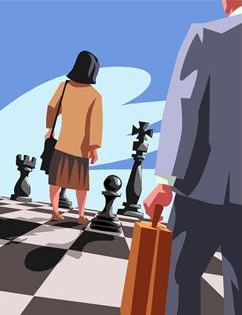 Whether a company promotes a successful candidate from within – appointing someone to a new or lateral role – or selects a candidate from outside the organization, the company has confidence that a new leader's skills and experience can meet the challenges of the job.  However, consider this startling statistic regarding new leaders: estimates of outright failure in the first 18 months range from 38% to more than 50%, and many more executives fail to be as successful as was predicted in the hiring or promotion phase.* In most cases, these leaders are individuals who have demonstrated prior success and who have shown high intelligence, appropriate initiative, and considerable business savvy.
The cost of failed leadership is high. See our article The Multi-Million Dollar Cost of Under-Performing Leaders. For outside hires, search fees, interviewing, sign-on bonuses, annual salary, first-year guaranteed incentives, and relocation can easily exceed $1 million per top hire. Add to that planned but unrealized revenue, typically $3 million to $4 million, that the failed hire was expected to generate. And then there are the "soft" costs—damage to the firm's brand, missed market opportunities, loss of client confidence, and the fear factor planted in the minds of disheartened staff and future candidates. All together, the total loss can be in the multi-millions of dollars.
One reason for the high failure rate for new leaders is that organizations  have  higher  expectations  for performance  and  lower  levels  of  patience for results than ever before.  This demand for results within shorter and shorter timeframes means  that  both  failure  and  triumph  are proclaimed quickly for the new leader. Based on research conducted by the Center for Creative Leadership, common reasons for new leader failure have been identified. They include:
Failing to build key relationships
Being too slow to learn the organization's culture
Neglecting to clarify role expectations
Fortunately, within the past several years, a large knowledge base has been developed that can greatly increase the effectiveness of new leaders during the first year of a new leadership role.  We know, for instance, that the "onboarding" period (the 6 to 12 months when newly appointed leaders establish themselves in a new position) almost always involves a predictable set of phases that can be anticipated and successfully worked though.  We also know that each job has its unique challenges depending on the organization's culture, its history, the particular history of the job, the unique mix of people associated with the job, and other key factors. The many obstacles to a new leader's success are also better understood now than ever before.  Some of these obstacles are clear and obvious if you know what to look for; others are subtle, complex, hidden.  All can be dangerous to leaders taking over a new position.
For new leaders to be effective, they must focus on learning, rather than demonstrating worth. Build alliances while not becoming overly political. Seek to improve the organization without devaluing what already exists. Gain the credibility to be allowed to enact decisions that should, by rights, be theirs to make. If the new leader's mandate is to bring about radical change, they must approach the onboarding process with the sophistication of an anthropologist studying a foreign culture (and the caution of someone who is unsure whether the natives are armed and dangerous).

Companies must make the new leader onboarding process a top priority. They should utilize assimilation programs and tools, such as New Leader Accelerator, to help guide the new leader during the first year in the new role.  Additionally, new leader coaches can provide significant value to new leaders by helping them leverage their strengths, build effective partnerships with key stakeholders, establish their vision and get buy-in from the team, and avoid common pitfalls during the first year in the new position.
For new leader hired from outside the organization, it's important to note that leadership onboarding is not the same as employee orientation. A typical orientation process is event-based and short-lived (often totaling no more than eight hours of training), providing a high-level company overview and access to basic information. An effective leadership onboarding process is different in several important ways – it is broader in scope, more structured, covers a longer time period, and focuses learning on the areas of greatest import to the new leader's role. With a structured leadership onboarding program, the chances of long-term success increase and the leader is more likely to be happy and effective in the new job.
Advice for New Leaders
Listen More, Talk Less. According to Michael Hyatt, author of The Next Level, those early conversations should be dedicated to asking some common questions of the stakeholders. The new leader's goal should be to learn the organization as quickly as possible. That can be accomplished by listening more and talking less. By asking a set of common questions, leaders can begin to see the patterns about what matters most in their new job. Some good questions to ask include:

What are the key outcomes that will make this year successful for you and your team?
What kind of support would you like to see from me and my team to support your success
What is working well that my team should keep doing?
What would you like to see my team start doing or stop doing to be more effective?
What do I need to know about my new job that people are unlikely to tell me?
Get Early Wins. Early wins build credibility and confidence. They confirm that you are, indeed, right for the job, that you've earned support from your key direct responders. Early wins imbue key internal stakeholders into a "we can do it" spirit. These wins also let your people know that they're part of a bright future. You can get an early win from a turnaround for a failing project or from a team effort that raises spirits as well as profits.
Meet Your Counterparts. Meet with key leaders, especially those in areas related to your own. Much as an anthropologist would, study the culture. What are the norms (both stated and unstated) for leadership and other behavior? What is forbidden? Glean their lessons learned. Learn about the work done by their functional areas, the handoffs to your areas, and their assessments of your area and team. Ask their advice, speaking both generically and specifically.
Avoid being heavy-handed. Be cautious about forming and sharing a vision for your team until you have gained enough information to make others feel valued (and you feel well-grounded) in your decision-making. Resist the temptation to "fix" things until you truly understand the underlying issues. Size up your team and their capabilities (and aspirations). Ask to see samples of their work. Find out what they'd do to improve the effectiveness of your area. Visit with key vendors and external partners, and learn from their perspective. Slowly, after several sounding board sessions with your manager, formulate the beginnings of a plan for your group.
*Executive Integration: Equipping Transitioning Leaders for Success (Center for Creative Leadership, 2009).