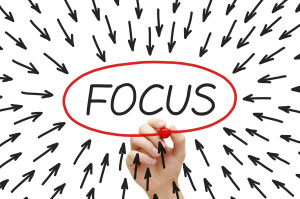 Deadlines, conference calls, last minute items that pop up, personal commitments—there is a multitude of things that we have to accomplish each day.  It is easy to fall into the habit of just crossing things off of our to do list, without being fully present as we get them done.
Of course we are physically present, but being mentally present is something different.  People can tell when you are distracted and not fully available during your interactions with them.
If you are checking email on your smart phone while you are being briefed on the progress of your priority project, your staff will feel as if your emails are more valuable than their hard work.  Not only that, but it's unlikely that you will be able to provide effective feedback and coaching since you are not giving your undivided attention.
Being fully present is what sets a good leader apart from a stellar leader.  Let's take a look at how to get there and what you can achieve when you are present and engaged.
Quality vs. Quantity
"Quality versus quantity" is a phrase we hear often, but it rings so true in regards to being present as a leader.  We have been trained to multitask, but when you multi-task during your face to face time, or even when sending out an email response, it will affect the quality of your relationships.  Recognize that your colleagues' time is valuable too and give them the respect of being fully present.
Pay attention to details.  Each of your team members is part of something bigger, regardless of what their role is.  Think of the work place like a puzzle.  Regardless of how far away a piece of the puzzle is from you, it still completes the picture.  Statistics  show that your staff is more dedicated to the organization, and to their work when they sense that they are "in on things" and that they are part of something bigger.
It Only Takes Minutes
Taking the extra time to be fully present, really only requires a few extra minutes here and there.  Consider setting a goal that, when you are walking through the office, to take a few minutes a day to check-in with people along the way.  Ask them how a project is coming along, thank them for something they recently did well, ask how their weekend was.  Make the effort to connect and notice the incremental contributions and the big wins that people achieve.
If you are having a one-on-one conversation or will be receiving a presentation, show that you are intellectually engaged by maintaining eye contact, nodding, taking notes, and ask questions that arise along the way.  To take it a step further take a few minutes at the end for developmental questions—"Walk me through the thought process you took to get here?"  or play devil's advocate.  Even if the idea is great and needs no adjustments you will learn more a team members rational and ability to think critically.
Five extra minutes here and there will make your staff feel like they are invaluable.
Who Was Present With You
Look at the leaders in your career path that inspired you to get where you are today. They were always fully present.  They took the time to listen and learn, and challenge you to develop.  If you want to have a rock solid team, support your people's growth by being present.  Remember that the impressions you make in your organization trickle down.
Ask yourself a few questions:
Who were the leaders that developed you?  Identify what they did well.  Maybe it was a project manager that you only met with once a month, but the meetings were always impactful.
Who were the leaders that weren't as impactful?  Define what it was about them that didn't resonate.  Maybe it was a manager that could never remember your name, even though you worked 60hrs a week.
Which of these leaders do you want to be?
Which of these leaders are you most like?
Be honest with those last two questions.  You may find that you aren't the leader you aspire to be, but it's not too late.  The first step towards change is identifying opportunity.
Being fully present is one of those little things that make a big difference.   Start being fully present and it won't be long before you see a noticeable difference. Productivity will increase and a more cohesive team culture will merge.  The best part is, you will feel more connected and will take more pride in your workplace—which is the sign of a stellar leader.