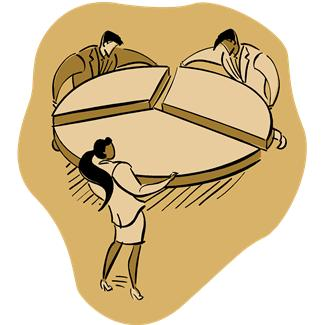 Companies have been served a wake up call in light of the recession and ongoing economic uncertainty.  They are being driven to become more efficient while at the same time improving levels of quality and service.  As a result, the shared services model is becoming an increasingly popular organizational structure to help achieve business objectives.
As the name implies, the shared services model utilizes a centralized pool of skilled resources to streamline the delivery of support services for specific functional areas such as finance, marketing, communication, legal, purchasing, and human resources.
The advantages are significant cost savings, efficiency, and better quality and compliance control. However, there are several important factors to "get right" when designing and implementing a shared service organization:
Assess service costs
The first step in understanding whether a shared services organization is right for your company involves assessing service costs to determine whether the model will be cost-effective in serving the business goals. This is a necessary step in order to model the economic business case and justify the investments needed to stand up your shared services organization and make it operational.
Clarify what's being delivered
Implementing a shared service organization involves many decisions, details and priorities to mull over. At the center of those decisions are the internal business customers who will "consume" a particular shared service. A service level agreement (SLA) is the tool most commonly used to clarify and formalize service expectations. An effective SLA will specify what services will be provided, who is responsible for delivering the services, service delivery time frames, costs of delivering services, and issue escalation/resolution procedures when services are not delivered per the agreed-upon standards.
Find the right leaders early
The effectiveness of your shared service organization is highly dependent upon the leaders assigned to lead it. Studies show that all too often leaders are placed in new positions without the right skills, support, or decision authority to be effective.  Putting in the time to select the right shared services leader is critically important for the short and long-term success of the model. The best shared services leaders have great customer relationship skills and prior experience managing a portfolio of projects and working in a matrix organization.
Have an organizational change strategy
Companies that have implemented successful shared services organizations point to the importance of managing the transition process. It can be a significant change for employees moving from a traditional role with a single manager to a model where they will need to serve multiple business customers and juggle several projects at once.  Companies who have gone through a shared services implementation often wish they had developed a more proactive change management strategy to support their transition to the new organizational structure.
Involve appropriate stakeholders
Involving the right people in the shared services planning and implementation process can help ensure its success.  Under pressure to stand up a shared services organization and drive results, it is easy to overlook the involvement of key subject matter experts. For example, involving representatives from human resources, finance, and IT early in the planning process will help you think through important implications related to budgeting, accounting, software needs, and how best to handle transition of employees to the new shared services organization structure. Involvement of these subject matter experts early will help avoid surprises later on.
This article was written by guest author Tresha D. Moreland, MS, SPHR, MBA, an executive leader in Human Resources. She has held key human resource leadership roles for over 15 years in multiple industries such as manufacturing, retail, hospitality, and healthcare. Tresha is the founder and publisher of HR C-Suite (www.hrcsuite.com) and author of "The Insider's Guide to Shared Services." She recently authored the The Insiders Guide to Shared Services.