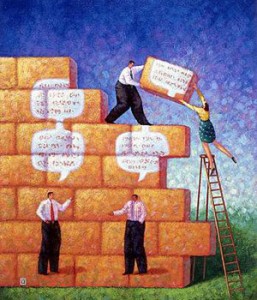 Two-thirds of all large-scale change initiatives fail to achieve their expected business benefits. This failure rate represents billions of dollars in lost productivity, wasted resources, opportunity costs and rework—not to mention the cost of lost jobs and workforce disengagement. Companies that learn to manage change effectively and consistently deliver expected returns from their large-scale change programs can gain competitive advantage.
At any given time most large organizations are pursuing several high-priority strategic initiatives, most involving large-scale change. Senior executives want their companies to embrace these strategic initiatives and adopt changes effectively. However, only a few companies are truly capable of responding in this way. To help close the gap between senior executives' expectations and reality, smart organizations are developing internal change capabilities as a strategy for enabling success of their priority business initiatives.
One way to accomplish this is through a change management center of excellence (COE), where the organization establishes a team of internal change management experts that supports the company's strategic business initiatives. The COE provides behind-the-scenes support in the form of communications, change-readiness analysis, training, and stakeholder management the executive sponsors may not have time for while running their businesses. The center of excellence is established as an internal function, division or standalone organization with a dedicated team of change management experts reporting to the CEO, chief operating officer, chief human resources officer, chief information officer or chief strategy officer.
While some companies might stop there, in our view a change management COE alone is not enough. It should be part (albeit an important part) of a more holistic approach that seeks to build change management capability broadly at all levels of the organization. We endeavor to bake change management competence into the client organization's DNA – over time, of course. The goal is for everyone in the organization to have a level of awareness of change management, with middle managers, senior leaders, program managers, and internal change experts possessing an increasingly sophisticated mastery of change management skills.
Change Management Capability Building Approach
Based on our experience, the specifics of each organization's change management capability will vary, depending on the organization's size, existing talent pool, degree of change management acumen, number of strategic initiatives in play at any given time, and many other factors. Our change management capability-building approach follows four key steps, taking into account the unique characteristics of each organization:
Structure & Governance – Define the mission and objective of the change management capability. Identify where the capability will reside in the organization and how it will be governed. Articulate the near-term, transitional, and long-term vision and structure of the capability.  Define how the capability with engage with program teams and interact with other parts of the organization. Determine where the COE's change management experts will come from (e.g., internal talent pool, outside hires, or external consultants).
Methodology – Determine which change management methodology and supporting tactics will be used. This may be an off-the-shelf methodology such as Kotter's Eight Steps or Prosci's ADKAR model, but we often we find that a customized change methodology works best because it can be highly tailored to fit the unique characteristics and values of the organization.
Tools – Develop a change management tools that map to each phase of the change methodology and support each tactic. Ensure the tools have a common look and feel that reflect the company's branding. Place these tools into an easily accessible online repository that can be securely accessed from anywhere 24/7.
Skills – This step involves training the organization on the change management methodology. Segment the organization's stakeholders based on the level of change management acumen required. Senior leaders and middle managers are trained on methodology and their role as sponsors and change agents, respectively. The organization's program managers receive a deeper dive on the methodology with an emphasis on partnering with the change management experts. The change management experts (who reside in the COE) receive the most detailed training, focused on how to use the tools and effectively partner with the program team and executive sponsors.
This, at a high level, is the approach for building an internal change management capability. It typically takes at least a few months to work through this process and get the foundational elements in place. If you would like help in developing your own internal change management capability, contact us. We would be happy to share our perspective with you.